A SUCCESS STORY: MYANMAR'S ALCOHOLIC BEVERAGE MARKET LEADER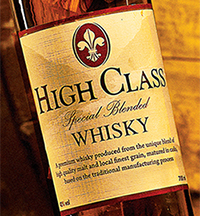 ABC is uniquely placed among the leading players within the distillery industry
ABC can trace its history back over 15 years to when it was the leading supplier of quality rectified spirits in Myanmar; a position it still enjoys today. It is this background with a fierce commitment to quality in all aspects of its operations which allows ABC to produce consistently the best quality whisky and rum in the Myanmar market.
ABC's efficient operations are supported by a large workforce in over 24 branches and depots, providing extensive geographical coverage across both Upper and Lower Myanmar.
This detailed knowledge, efficiency and commitment to quality right along the value chain has resulted in High Class whisky enjoying one of the leading positions in the market place in just under two years of launching, while Captain's Rum, a relatively new edition to the brand family, has quickly surpassed all initial projections.
As the market continues to expand, ABC is well placed to benefit from the growth of Myanmar in the years to come.