MARKETING: LEADING THE WAY IN MARKETING CONSUMER GOODS IN MYANMAR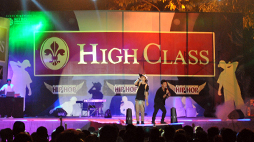 ABC is at the forefront of consumer marketing in the alcoholic beverages industry in Myanmar.
ABC constantly monitors the market keeping up to date with the latest consumer trends and assessing consumer needs with the objective of fulfilling consumer needs with quality products. ABC's product portfolio covers a significant portion of the market, with product and brand positionings to fulfill most wants at an affordable price.
Our marketing works in partnership with distribution, to ensure stakeholders are fully participative which in turn allows consumers to find our products easily, at sufficient quantities.
From strategy and promotions to creative executions, both above the line and below the line, ABC successfully implements campaigns reaching out to specific segments throughout the country.
ABC is the ideal partner for overseas products and brands looking for an efficient quick to market facility, providing access to over 50 million consumers.