GRAIN PROCESSING: MYANMAR'S MOST TIGHTLY CONTROLLED GRAIN PROCESSING SYSTEM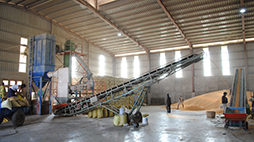 ABC grows its grain on fertile land in the Shan States, an area with nutrient rich soil and a perfect climate.
This ideal geography and a chemical free growing process allow grain of maximum flavour to be grown; the requisite ingredient for the production of rectified spirits.
Stringent control procedures ensure the grain is carefully stored and dried, with regular inspections to check the grain is in good condition. The production systems utilised are highly flexible which allows several types of grain to be used depending on requirements.